Susi Barber CertHypCS MHS. Hypnotherapy in Oxfordshire
Deddington OX15 & Banbury OX16
01295269393
01295269393
Deddington OX15 & Banbury OX16
About me
COVID19 - SELF-ISOLATION
In light of the current situation, more than ever, we need to be able to talk things through.
Susi is offering half-hour Counselling and talking therapy sessions, either by 'phone or through Zoom and the cost is £30 per session.  E.mail Susi with your preferred day, and whether you'd like an a.m. or p.m. consultation.  You'll then receive a response with your time slot.
Hi,
I'm a Professional Psychotherapist, Counsellor and Clinical Hypnotherapist and I'm glad you've found your way here. Are you experiencing anxiety? Too much stress? Difficult sleep patterns? You may be suffering from depression, a phobia, past trauma or unwanted habit.
Hypnotherapy can certainly help with all the issues mentioned above, but just in case your problem is not listed above, there's also Post Traumatic Stress Disorder (PTSD), addiction (yes, lots of those), compulsion, smoking, unwanted eating patterns & craving, fear of heights, and old ingrained fears, to add to the list.  Hypnotherapy can even help with pain management.
How's it going?
For some things, we need a little help.  With professional Therapy and support life can be so much better, and that includes knowing you have freedom to go into the future with a new sense of well-being. confidence and trusting in yourself. This is how life should be.
Your Initial Consultation is free, when we have the opportunity to discuss issues and worries, and to look at the best Therapy for you.  The exception is Quit Smoking for which there is no Initial Consultation, but QS Therapy holds at a manageable £200, which covers the two important sessions you need to be successful - and remember this payment will be offset by the savings you make in a month by NOT buying cigarettes!
Get in touch to make a difference.
Susi Barber
In Practice at the Ashcroft Therapy Centre, Deddington, Oxfordshire OX15 0SW.
Training, qualifications & experience
Professional Member of the National Hypnotherapy Society (MHS)
Chrysalis Certificate in Hypnotherapy and Counselling Skills (CertHypCS)
Aim Awards Certificate in Hypnotherapy and Counselling Skills Level 4 (QCF)
DBS. Holder of Enhanced Certificate 2017
Cert. Mindfulness for Anxiety & Depression
Cert. Treating Social Anxiety Disorder
Cert. Personality Disorders
Cert. PTSD (Post Traumatic Stress Disorder)
Cert. Anxiety disorders
Cert. Weight loss
Cert. Treating Anxiety & panic
Cert. Facebook Addiction Syndrome 2019
Cert. Treating OCD
Vocational experience in Bereavement & Loss.
Cert. IBS & Gut directed Hypnotherapy (GHSC)
Cert. Trauma & PTSD (GHSC)
I am in Practice at the Ashcroft Therapy Centre, Deddington, Oxfordshire OX15 0SW.

Leaflets also available direct from your GP at the Deddington Health Centre, The Pharmacy at Hudson St. Deddington, and Bicester Health Centre.
Member organisations

National Hypnotherapy Society
The National Hypnotherapy Society is a Learned Society whose primary purpose is the advancement of the knowledge of hypnotherapy and the fostering of professional hypnotherapy expertise through training, accreditation and continued professional development of their members. The Society seeks to contribute to public wellbeing both through the use of hypnotherapy and by ensuring that hypnotherapists are safe, competent and ethical in practice.
Accredited register membership

Accredited Register Scheme
The Accredited Register Scheme was set up in 2013 by the Department of Health (DoH) as a way to recognise organisations that hold voluntary registers which meet certain standards. These standards are set by the Professional Standards Authority (PSA).
This therapist has indicated that they belong to an Accredited Register.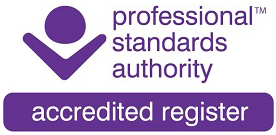 Areas of hypnotherapy I deal with
If you have been diagnosed or suspect you may have one of the medical conditions starred above, you should consult your GP for advice, diagnosis and treatment and always inform your health professional before starting any alternative or additional therapies or treatments.
Other areas of hypnotherapy I deal with
Nurture Plan    
You can't hate yourself slimmer.  Move on from the pointless cycle of emotional eating, starving, bingeing and guilt. Learning to nurture your body with the right foods, at the right time.  Receiving the right support to help you on your journey to find the real You.  Finding happiness, serenity, self-esteem and confidence on the journey.   There's no need to starve yourself any more.  Reach your ideal weight by changing habits to improve health & well-being,  Relish good food - the right food, to sate hunger, dispel craving, cease bingeing and avoid guilt.  This Plan will change the way you look at life. Achieve total confidence and the long-term lifestyle you really desire.
Nurture Plan - £360 (Block booking)
QUIT SMOKING! 
How do you feel right now?  When did you last feel on top of the World?
Want to become a non-smoker – have the ability to breathe deeply again, wake each morning feeling free as a bird, no bad habit holding you back?  So many questions.
Open up to total confidence – and optimum health.
Quit smoking – Your chance to change everything.  £200 (block booking)
The sleep seeker                           
Your day is over.  There is no more you can do today. Prepare your mind for sleep.  Deep, relaxing sleep.  You are supported, you are comfortable and, as you settle down, ask yourself, where will I go?  Remind yourself that this is your time...
Everything you want is possible.  The way to relaxation is not rocket science, but sometimes we need a little help to reach the stars.  Find out how to take that journey.
Sleep seeker - £120 for 2 sessions (block booking)

Driving Disorientation (and related driving issues)
- Vertigo, loss of confidence on motorways, confusion in traffic flow or rain, fear of driving in the dark – all are far more common that we imagine.  You're a qualified driver, fit & well, eyes checked regularly, and yet these inhibitions have become an inate fear, limiting driving confidence.
In Therapy we discuss in confidence your own responses to road situations, and look at any issues which concern you, then using modern hypnotherapy methods we begin to dispel those anxieties, moving on to improve all aspects of cognitive behavior (that's your perception and judgment in driving terms). Re-gain belief in yourself and your driving skill, making driving responsive, inter-active and pleasurable.


Driving disorientation - £180 for 3 sessions (block booking)
Pain Management
In our brain the Autonomic Nervous system is responsible for controlling involuntary body functions.  Hypnotherapy can help the whole system to deal with pain - calming heart rate, soothing thee body, and healing and strengthening the immune system.'  Use Hypnotherapy to manage pain, boost the healing process and generate a feeling of wellness.  Accelerate your  recovery.   ...GET WELL SOON!
£180 for 3 sessions (block booking - preferably over 3 consecutive days -  worth the commitment)               

Walk & Talk Therapy 
Love Walking? Talking Therapy with a qualified Therapist works well for worries, stress, anxiety - and can also help with weight loss.  Now you can benefit from Walk & Talk Therapy as we walk outdoors in peaceful surroundings. This is not hypnotherapy but a talking Therapy Session, whilst enjoying the views and gentle calm of grand gardens in the English Cotswolds.  You will improve on so many levels with this innovative Therapy. I can't recommend it enough.
Walk & Talk - £70 per session
Ever tried Mindfulness for Anxiety?
A fascinating insight into the whole ethos of mindfulness, together with interesting therapies, some useful exercises, and many new ideas to use for day to day life, dispelling tension & anxiety, promoting well-being and restoring self-esteem.
• Learn the practices of Mindfulness. Ideas you can use every day for a calmer life.
• Benefit from the psychology of Healing light Therapy – ideal if you're in recovery, or to use whenever you need.
• Enjoy Tibetan bowl vibrations to relax the whole body, soothing the heart-rate and settling any tension or stress.
• Take a journey through the empowering Colour chakras.
£360 for 6 sessions (block booking)

See regular updates -

https://www.facebook.com/Susi-Barber-Psychotherapy-Counselling-Clinical-Hypnotherapy-1891000531124080/
Therapies offered
Cognitive hypnotherapy
Ericksonian hypnosis
Hypno-psychotherapy
Hypnoanalysis/Analytical hypnotherapy
Suggestion hypnotherapy
Fees
Your Initial Consultation       -    Free


Psychotherapy, Counselling  -  during Covid19 outbreak a half-hour telephone                                                                    consultation is £30
Hypnotherapy                      -  pre-paid block booking of 6 is £360
Quit smoking                          -    £200 covering 2 sessions
Further information
When do we use Hypnotherapy?
Since ancient times, people have been using hypnosis for a whole host of issues including pain management.  In this modern World, Hypnotherapy proves to be equally useful, allowing us to cope with the stresses of our fast paced life, as well as dealing with classical issues such as pain management and phobias.  More than ever. Hypnotherapy is still necessary, and very effective
You may have a troubling habit which needs to change for the benefit of your health and well- being, or perhaps a recent issue has turned up out of the blue and for some reason it has become a serious worry, preventing you from living a normal and happy existence.
Professional Clinical Hypnotherapy will help you to overcome these inhibiting issues.  Hypnotherapy is useful for dealing with stress, anxiety, phobia, PTSD, insomnia, vertigo, addiction and old ingrained fears. Hypnotherapy can also play an important part in the healing process for post-operative care, calming the heart rate, aiding digestion and healing and strengthening the immune system.
Prepare to bring back a feeling of well-being.  Create the strength and surety that you can in fact be happy, and live life to the full.
Susi