What is hypnotherapy?
Hypnotherapy generally refers to the therapeutic use of hypnosis, to help you try to change habits, lessen symptoms, or treat a variety of conditions.
As with many forms of therapy, there are different types of hypnotherapy available, as well as different ways of using hypnotherapy - be that one-on-one with a qualified hypnotherapist, through online or telephone sessions, or through self-hypnosis.
---
What should I expect from a hypnotherapy session?
Hypnotherapy sessions can take place online or in person, depending on your preferences and what the hypnotherapist offers. Whether you're talking in person or virtually, you will most likely have an initial chat to go over what problem you are struggling with, what behaviours you hope to change, and what you hope to achieve through hypnotherapy.
Once you have established what you hope to achieve, your hypnotherapist will go through what method(s) they plan to use, and give you a rough idea of what to expect. Typically, a hypnotherapy session will include leading you into a deep state of relaxation, making suggestions for different ways of handling a particular issue, behaviour or situation you have been struggling with, and gradually helping bring you out of the trance.
In hypnosis, a person will be more open to suggestion and therefore be able to change patterns of behaviour that are unhelpful, but no one can make you do anything you don't want to do.

- Hypnotherapist Lorraine McReight in 'A Complete Guide to Hypnotherapy'.
Following your initial session, you may begin to see a positive impact straight away, as the new suggestions made to your subconscious start to take effect. For others, further sessions to help reinforce these new ideas may be needed. Your hypnotherapist may also teach you self-hypnosis techniques to help you continue to positively reinforce these new ideas of behaviours between sessions.
It's important to know that hypnotherapy will only work if you want to make positive change. While hypnotherapy doesn't have any side effects, it is worth noting that it is not recommended if you have a certain type of personality disorder or psychosis.
What is the difference between hypnotherapy and hypnosis?
Hypnotherapy is the therapeutic use of hypnosis to help with a wide variety of problems or issues, such as to help you quit smoking, give up alcohol, and learn to manage anxiety or stress. It can also be used to help combat things such as low self-esteem or confidence, improve your ability to relax or increase your sports performance or ability to speak in public.
While hypnosis may refer to the process of inducing a trance to help promote communication between the conscious and subconscious mind, hypnotherapy refers to the process of using hypnosis to achieve a specific goal or outcome.
Find a verified hypnotherapist today
What are the benefits of hypnotherapy?
Hypnotherapy can not only help with a wide range of problems but can also support you in achieving goals and making positive changes that can truly have a positive impact on your life. From scientifically-backed health benefits to personal experiences, hypnotherapy can help bring about positive change by focusing on the here and now.
Hypnotherapy helps you to find a state of deep relaxation and offers an alternative or complementary option to many other forms of support, such as talking therapies or group therapy. Focusing on what is working - or not working - for you, hypnotherapy can help facilitate change for the better.
Does hypnotherapy really work?
Studies have shown that hypnotherapy can be an effective way of reducing symptoms and easing side effects of a number of issues, including pain management, stress, PTSD, anxiety, stopping smoking, and more. Find out more about how hypnotherapy works and the studies into hypnosis.
Further reading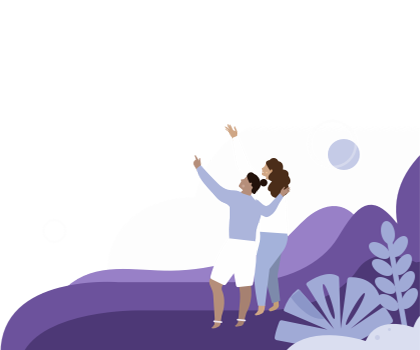 Find the right hypnotherapist for you