Christopher Clarkson

Verified Professional

Every professional displayed on Hypnotherapy Directory has been independently verified by our team to ensure they have suitable credentials to practise.
DHP(NC) CHP(NC) BA(hons) CNHC NSHP
Available for new clients
Available for new clients
This professional is available for new clients.
Warrington, Cheshire, WA5 9QE
Available for new clients
Available for new clients
This professional is available for new clients.
About me
Hi There,
I know how difficult it can be to struggle with your daily anxieties and stresses. The last thing you need is to get stressed out, perusing countless profiles to find the perfect fit for your needs.
I have broken my profile into chunks so you can go through it bit by bit. I would always call a therapist first, anyway, and I am more than happy to spend time with you on the phone :).
OK, here we go.......
A quick synopsis:
I am an Anxiety Specialist, a Professional, compassionate and highly experienced Clinical Hypnotherapist, Psychotherapist and CBT therapist, specialising in anxiety disorders, Addictions, depression, stress, Phobias, confidence and self-esteem.
More info on me and my Fees are toward the bottom of the page:
**NB - I can also help you via Teams, Zoom or Skype.**
I offer a free phone chat to help answer all your questions.
What am I?:
I am a 'Solution Focused' full-time hypno-Psychotherapist and CBT therapist, concentrating on results rather than problems.
Hypno-Psychotherapy is seen as a brief intervention therapy.
Why choose me?
Of course, you can choose anyone who ticks all the boxes.
I am trusted to work with individuals and with businesses and their employees, and have worked with:
The Manchester Stress Institute
The North West Ambulance Service
NHS
Nordex
Morgan Sidall
Dynamis
The National Grid
One Education
Kirklees housing trust
Dats
And others.
What about my training?
I am one of only a few Hypno-Psychotherapist in this region, meaning my qualifications were gained after years of training at Masters level (level 7). A further 18 months of training in Cognitive Behavioural Therapy helps put me in one of the best positions to help you!
I often work with GP and Psychiatrist referrals and take on complex cases. Everyone deserves a chance to be helped.
I also have an 'Enhanced' DBS certificate for your confidence.
Anxiety Specialist - Working collaboratively on eliminating anxiety problems.
Air-conditioned, Comfortable, private and confidential office.
Cognitive Behavioural Hypnotherapy

I am also a CBT (cognitive behavioural therapist) practitioner, having spent 18 months of continued professional development in CBT at the University of Bolton.  Helping you with your negative thoughts, feelings and behaviours. This proven scientific approach gets results and is the treatment of choice within the NHS because of its proven efficiency!

Combine the two (hypnosis + CBT), forming a very strong and powerful solution to your problems!
Brainspotting for Trauma and anxiety issues
Brainspotting is a therapeutic technique to address anxiety and trauma by tapping into the brain's natural ability to process and heal emotional wounds. Developed by Dr. David Grand in the early 2000s, brainspotting is a relatively new and innovative approach to psychotherapy. Mark Grixti was my trainer in the UK.
During a brainspotting session, I will guide the client's eyes to focus on a particular point or "brainspot" that correlates with the emotional or traumatic experience they wish to address. These brainspots relate to activating traumatic or anxiety-inducing memories stored in the brain.
I create a safe and supportive environment where clients can explore and process their emotions and memories associated with the brainspot. Maintaining this focused gaze allows the client to access deep emotional processing and release, leading to significant healing and resolution of traumatic experiences and anxiety.
Brainspotting is known for its versatility and adaptability, making it a valuable tool for various types of trauma and anxiety, including post-traumatic stress disorder (PTSD), phobias, and performance anxiety. Depending on my client's specific needs, it can be used with other therapeutic techniques or as a standalone approach.
Brainspotting is a promising method for individuals seeking to address and alleviate the emotional distress caused by anxiety and trauma, helping them move towards healing and recovery. It has been the focus of numerous studies with very exciting results.

*I am now offering both Saturday and Sunday Appointments to help meet demand*
What else do I do?

Speaker - trainer - Corporate consultant & has acted as advisor to the TV industry.
Delivering talks about mental health to big businesses such as the 'NHS', 'North West Ambulance Service', 'Wise Owl Education' 'One education' and the 'Liverpool Law courts' and many others.

I've also appeared on BBC Radio Lancashire talking about fears.
"Chris is also one of the experts used on 'inspire corporate TV' which aims to help bring wellness to employees in the workplace" and 'The Manchester Stress Institute.
A quick Testimonial:
"Chris was instrumental in the success of our stress and mental health programme for the North West Ambulance Service (NWAS). He wrote and recorded all the audio podcasts for the programme and worked with the staff on the group and 1-2-1 private consultations to help reduce anxiety and stress symptoms. He also worked extensively on our 'One in Ten Programme', working with senior leadership teams and staff to help improve their mental health and wellbeing to improve performance at work."                                                                                      Jeannette Jackson - Director - Manchester Stress Institute.
Who am I registered with?
I am registered with the CNHC (Complimentary natural healthcare council). An organisation set up with the 'Department of Health'. CNHC recognises practitioners with solid, respected training.
CNHC's register is approved as an Accredited Register by the Professional Standards Authority for Health and Social Care, a body accountable to Parliament. This ensures that CNHC registrants meet UK-wide patient safety and service quality standards.
Also, I am registered with The National College of Hypnosis (NCHP) and Psychotherapy and the National Society of Talking Therapies (NSTT).

So,

"If you are struggling, let me help you get back on track."


Free Phone chat is available.


What conditions do I generally help with?

Anxiety/stress disorders
Emotional problems
Self-esteem and confidence problems
Addictions
Fears & Phobias
Depression (Incorporating empirically supported Psychotherapy techniques)
Quit Smoking
Weight-Loss
And Much More..


Here's a slightly longer Bio:

If you have decided to change something about yourself emotionally, hypnosis may be the right solution for you! Many people have changed from being anxious, depressed, phobic, stressed or fearful to living what we call a 'NORMAL' life through the powerful use of hypno-Psychotherapy.
I use psychotherapy and hypnosis together. The two combined are highly potent in helping you overcome your troubles, achieve your goals or help you with confidence and self-esteem.

I also see many people with addiction-related problems such as Gambling addiction, alcohol addiction and drug addiction. As well as helping people to quit smoking with my unique one-session approach and weight loss, including my own very powerful Gastric Band Hypnotherapy programme.

I am one of only a few hypno-psychotherapists in your area, which allows me to adapt to your needs and not just use a blanket approach.
I am a trained psychotherapist and used to working with very complex conditions. When it comes to working with the mind, you need someone who understands the workings of the brain and is trained to deal with complex emotional problems.
I use an integrative style of therapy, using my hypnosis and psychotherapeutic skills (within hypnosis) and techniques to help you realise your goals and achieve the permanent change you desire. Sometimes, hypnosis needs backing up and reinforcing; my psychotherapy style can help this process.

Over the years, I have realised how overwhelming it can be for an individual to search for and find a hypnotherapist who understands them and, above all, one who can help them!
So have a read on, and I hope you find me to be the correct hypnotherapist to help you achieve the change you deserve in your life.

I also work with children and young adults with a wide range of issues, from thumb sucking, bed wetting and confidence issues to exam nerves, needle phobia, self-esteem and driving tests!
However, it is essential to note that a responsible adult must initially accompany someone under 17! We can then judge if the young adult can attend therapy alone.


Why am I a fit for you?

Everyone is different and will react differently to therapy, depending on the treatment model used. Because of my training and experience, I don't need to stick to one particular treatment style. I use what I know works and then change and adapt it to your needs. I am a cognitive hypnotherapist and use elements of cognitive behavioural therapy within hypnosis. Still, there are many more therapy styles, and I don't particularly want to baffle you with many names of therapy techniques. What you are better off knowing is that these techniques are very efficient! Some of them have been researched very scientifically. I can change the style and direction of my work to suit you, helping you tackle your problem quickly.
I am realistic, ethical, and bound by some of this country's strictest codes of ethics, and I always have your best intentions at heart. I don't tie you into sessions and certainly don't try to influence you to continue therapy any longer than you need to.
It is about you; you are the most important person in the therapy room!


My clients tell me that I have a warm and friendly approach that helps them feel comfortable and relaxed, which helps them achieve the change they wish for. I am skilled in understanding your needs and lifting the limitations and negative beliefs that affect people's everyday lives, including working environments. My education and training provide me with the expertise to operate within various conditions and include brief and creative interventions to the everyday challenges individuals and businesses face.


What is a Hypno-Psychotherapist?
The difference between a hypnotherapist and a Hypno-Psychotherapist is that a Hypno-Psychotherapist is a practitioner who has undertaken a minimum of 4 years of Master's Degree level training (approx 1800 hours) in hypnosis along with its treatment within psychotherapy, rather than the 400 hours a hypnotherapist would undergo to receive a diploma alone. I can utilise my hypnotherapy skills and employ integrative psychotherapeutic interventions to help you achieve your goals.

I have an innate ability to work sensitively and compassionately with individuals experiencing anxiety, depression, fear and phobias, but I also help individuals to quit smoking, manage their weight, gain confidence and much more.

My approach is caring, friendly, empathetic and professional, and I have been told numerous times that I am a natural at placing people at ease and making them feel comfortable and understood. I have helped many individuals create extremely positive outcomes by recognising and eliminating the limitations and beliefs that stand in the way of change.

My Therapy room


I have created a comfortable, quiet and safe environment that is light and airy. Creating a professional therapy room that is light and relaxing helps with the therapeutic process.
I have invested in comfortable, supportive leather seating that supports you in hypnosis, keeping the head, neck, and legs relaxed. Your comfort is extremely important in session.

There is plenty of free parking, and the office has a toilet facility if needed. I also use my room for my art and music writing, reading and painting, and other hobbies, which I find very relaxing.


Let's look closer at the conditions I specialise in??


Anxiety
I am an anxiety specialist and have attended additional training for anxiety alone.
Anxiety is what we feel when we experience nervousness or fear and can be fuelled by worry. Worry is what we do when we try and cope with a predicted event, usually something that hasn't happened yet. A little bit of anxiety is typical in most people, but it can be highly undesirable and debilitating when it becomes persistent and intense.
Anxiety can cause sleeplessness, making it worse.
Generalised anxiety disorder, or GAD, is persistent anxiety and uneasiness that lasts long, sometimes years. You may worry about money, family or work, but the anxiety source is a little less known than situational anxiety.
Hypnotherapy is very efficient at helping calm the nerves and can help you think a little more level-headed about things so that you are better placed to deal with any event, should it happen.

Addictions

I have helped many people get through their addiction and specialise in gambling addiction; however, whether your addiction is related to gambling, alcohol, or drugs, you have to first want to receive help to move forward. You have to want to gain back control, and there will be work to carry out in between sessions as I use a blend of Hypnosis and other therapeutic techniques to help you deal with the emotional side of what keeps the addiction going as it isn't merely just habit. Addictions can be really tricky, but you can get through it with the correct help!
Panic Disorder
Often referred to as panic attacks, this is where the anxiety strikes as if out of nowhere, the sufferer feels intense fear, and the body enters the 'fight of flight mode. Adrenaline is released, and our hearts pound, our breathing becomes shallow, and we feel dizzy, and some people fear they may die!
Hypnotherapy is excellent at getting to the source of the panic and dealing with the problem at the source and helps the client by reacting differently in fearful situations like being afraid of lifts or dark places. When it becomes extreme, the sufferer may avoid situations where they have had an attack; if left untreated, this avoidance may lead to agoraphobia.
A panic attack may be brief, lasting a few minutes or can cycle over many hours.
Phobia
A phobia is a highly fearful response to an object or situation. This fear is usually unfounded and irrational, but it is very real and intense to the sufferer. Fear of an object could be a spider or a dog, and fear of a situation could be feeling trapped in a crowd of people. Some people can fear the elements, such as rain or wind.
The phobia may be caused by an initial sensitizing event, such as being bitten by a dog or trapped in a lift. Or it can be a learned behaviour, like a child seeing its parent react in a phobic way to a wasp.
Hypnotherapy is a proven way to help diminish and extinguish fear. I have even seen a phobia removed in a single session!
Social Anxiety
Predominantly, social phobics fear being negatively judged by other people. The fear is born out of fear of somehow embarrassing himself or herself in public or depicting that they may lose control and feel humiliated.
Like other phobias, the social phobic may introduce avoidance strategies and seek to get out of such things as work meetings, talks, social gatherings etc. It can become so bad that they may become reclusive, which will severely impact their lives.

Obsessive Compulsive Disorder
OCD is another anxiety disorder led by our thoughts and behaviour. The intrusive thoughts trigger a compulsion to carry out something that will relieve the anxiety. Many OCD sufferers know that the compulsion is irrational, but because it reduces their anxiety, they carry on with the compulsion.
People may worry about contamination, so they wash their hands to remove the germs. But then, they may think they are once more contaminated, so the compulsion is repeated. Some people may turn off the lights or lock the front door a number of times to ensure it is safe.
Again, the quality of life for the individual with OCD can be severely limited.
Separation Anxiety
This is the high anxiety, and concern individuals feel when they are parted from a particular person or place. Usually, the person or place provides a feeling of safety and security, and when they are separated from these places or people, they feel very unsafe and vulnerable. Occasionally, separation anxiety may lead to feelings of panic.
Depression
Depression, or persistent low mood, is when the sufferer will feel sad, lost or hopeless for periods of weeks or even years. It is much more than simply the blues, it can disturb the individual, and they may suffer a lack of sleep, feelings of helplessness, low energy and experience a severe lack of enjoyment in those things that used to give pleasure. This typically leads to avoiding the activity and attempting to wait out the depression until they feel better. But this merely feeds the depression.
The individual may feel demotivated and stay in bed where they feel safe and stop taking care of their appearance.
Depression is commonly treated with antidepressants, but hypnosis and psychotherapy (in particular, CBT) will help get you moving and set short-term goals. To see things in a more positive light and to focus more on activities rather than monitoring the low mood and guessing how you may feel the next day

Weight Loss & Gastric band Hypnotherapy

I tackle weight loss issues in a couple of ways. Identifying the type of eater you are. Are you a snacker in between meals? Do you give yourself large portions? Do you eat when bored, frustrated, sad, angry or lonely?
Identifying this is the first way to tackle your weight issue so we can develop strategies to address emotional eating at their cause.
Exercise motivation. Helping you to exercise to help you lose weight and addressing any conflicts at play within you. Have you ever had that metaphorical devil on one shoulder encouraging you to eat something you don't need... and the angel on the other shoulder insisting you shouldn't eat it because you will feel bad? Which one wins in the end, and what was the resulting feeling?
Another way I help people lose weight is to use my 5-session Gastric Band Hypnotherapy system, which I developed by studying the existing systems out there and then, in my opinion, making them better. How did I do this? Well, I listen to my client and adapt each session rather than just read a printed page of words...I have to adjust and sometimes may use ego state work to help any inner conflicts so that internal harmony can be achieved.

Quit Smoking Hypnosis

I have developed a 1 step approach that tackles the client's needs and offers a free backup session if needed!
The session lasts around 90 minutes, and I listen to your wants and needs and incorporate these into the session so that each session is unique to the individual.

Here is a comprehensive list of many problems I have helped the people of Cheshire with over the years.        
Addictions
Dealing with addictions using Hypnosis and CBT
Emotional eating and weight loss
To help you address the reasons why you eat too much or snack too much.
Fear of Driving
Help for your driving phobia!
Anxiety
Anxiety specialist in Hypno-Psychotherapy.
Alcohol abuse
It is never too late to quit drinking!
Quit smoking
One stop Quit smoking session (Free backup)
Gambling addiction
Helping gamblers stop for good.
Phobias
Overcome your phobias now!
Eating disorders
Working sensitively with eating disorders.
Depression
Lifting depression using CBT and Hypnosis.
Sexual issues
Helping you with your personal problems.
Food addiction
Powerful addiction help at hand.
Drug abuse
Help for overcoming your drug addiction.
Blushing
Control your facial flushing.
Insomnia
A structured approach to sleep help.
Relationship issues
Helping you resolve your issues.
Fear of flying
Learn to overcome your flight fears!
Low self-confidence
Boost your confidence and self-esteem.
Pain management
Manage your pain through hypnosis.
Anger management
Manage more calmly.
Low self-esteem
Boost your self-esteem
Sleep disorders
Overcome sleeping disorders.
Public speaking
Move aside your speaking fears.
Panic attacks
Leave your panic in the past!
Irritable bowel syndrome
IBS can be helped through hypnosis.
Sex addiction
Overcome your sex addiction.
Bruxism
Teeth grinding help is at hand.
Sports performance
Enhance your sporting prowess.
Stress
Learn to manage your stress.
Chronic fatigue syndrome
CFS may be helped through hypnosis.
Exam nerves
Calm down before and during exams.
Internet addiction
Help for internet addiction.
Stuttering
Stammering help through hypnosis
Obsessions & compulsions
OCD help in Warrington
Post-traumatic stress disorder (PTSD)
Sensitive help for PTSD
 
Training, qualifications & experience
Christopher Clarkson DHP(NC) CHP(NC) BA(hons) Cert.S.C.S. NSHP CHNC

Over the years, I have acquired several professional qualifications. I trained with the National College of Hypnosis and Psychotherapy, established in 1980 in the UK. (This is intensive training running over several years, meaning I pass on the best of my training to you, helping resolve your problems).
I am also trained in Brainspotting - A very effective way to deal with trauma.
Trained in CBT at the University of Bolton
I have given many talks and speeches to businesses and have helped their staff overcome stress and other related problems such as sleep disorders.
Helping corporate staff training in stress and sleep management techniques.
I have also been used by other industries, such as the TV industry, as a consultant on hypnosis and mental health for their programmes.

DHP(NC) Diploma in Hypnosis & Psychotherapy (Distinction - Masters degree level)
CHP(NC)) Certificate in Hypnosis and Psychotherapy (Credit - Masters degree level)
Cert.S.C.S Certificate in Smoking Cessation
Cert CES (Cranial Electrotherapy Stimulation)
BA(hons)
EFT Emotional freedom technique.
Borderline Personality Disorder and antisocial personality disorder -In association with (NICE)
Smoking Cessation - (NICE)
Bipolar Disorder: Management (NICE)
Anxiety Disorder in Adults (CPD)
Suicide Prevention (CPD)
Eating disorders (CPD)


I am committed to Continued professional development, and therefore my training never ceases.

I belong only to UK organisations such as the NSHP, NCHP, NCsAG, NSTT and the CHNC (Which means I am recognised by the organisation as having the hallmark of quality for the hypnotherapy sector).
CNHC is the UK regulator for complementary healthcare practitioners. And is backed by the Department of Health.

I hold specialist training certificates in Anxiety and smoking cessation.
Member organisations

Complementary and Natural Healthcare Council (CNHC)
The CNHC encompasses many types of alternative therapy, including hypnotherapy.

In order to be admitted to the register a practitioner must have studied to the National Occupational Standards for that profession/discipline, or have reached the equivalent of the National Occupational Standards through other relevant training or at least three years of experience and been assessed by their peers.

A practitioner must also have professional insurance and agree to abide by the CNHC Code of Conduct, Performance and Ethics.
Accredited register membership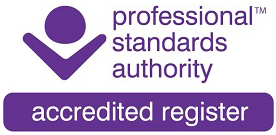 Accredited Register Scheme
The Accredited Register Scheme was set up in 2013 by the Department of Health (DoH) as a way to recognise organisations that hold voluntary registers which meet certain standards. These standards are set by the Professional Standards Authority (PSA).
This therapist has indicated that they belong to an Accredited Register.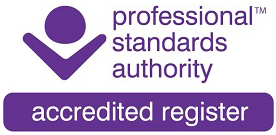 Areas of hypnotherapy I deal with
Information about health conditions (*)

Hypnotherapy can enhance the well-being of individuals diagnosed with serious medical conditions, but should not take the place of medical treatment and advice. If you have been diagnosed with - or suspect you may have - any of these conditions, please speak to your doctor before starting hypnotherapy.
Other areas of hypnotherapy I deal with
I also help people suffering with Bipolar Disorder, in general type 2. You must already have been diagnosed with BiPolar by your GP or Psychiatrist.
I will have to make contact with your psychiatrist or GP before commencing treatment, but this will be with your express permission.
Fees
Additional information
Free, no-obligation phone chat!
My fees are based on my extensive professional training and my continued professional development, and my expertise.
£60 per session
£90 Smoking Cessation
Initial Consultation/assessment usually lasts an hour, but often a little longer in some cases and is chargeable at £60. There will be therapy/hypnosis work within this session which is a very important part of the process, so I can deliver exactly what you need.

Hypnotherapy/Psychotherapy sessions last approximately 60 minutes and are charged £60.

One-off smoking cessation sessions are £90 (With a free follow-up appointment, should it be required, within three months of the initial session)
Weight Loss (Or weight management) 6 sessions (60 mins per session) charged at £60 per session. Designed for people who don't want gastric band hypnosis. Helping with emotional eating (such as boredom, frustration, loneliness etc.) and helping overcome unconscious habits leading to overeating.


When I work
M

on

T

ue

W

ed

T

hu

F

ri

S

at

S

un

Morning
Afternoon
Evening
Night
Monday to Friday 10:00AM to 8:00PM Saturday & Sunday 10:30AM I can also arrange home visits for disabled clients who cannot leave the house.