Hannah Schellander

Verified Professional

Every professional displayed on Hypnotherapy Directory has been independently verified by our team to ensure they have suitable credentials to practise.
Specialist in anxiety and PTSD
About me
I am an experienced clinical hypnotherapist and trauma therapist practising in Dorking in Surrey. I practise solution focused hypnotherapy, which means we focus on how you want things to be rather than dwelling on the problem or analysing distressing past experiences.  I use Rewind Trauma Therapy to treat PTSD and Complex PTSD.
What is solution focused hypnotherapy?
Solution focused hypnotherapy is a modern evidence based therapy combining a form of psychotherapy called Solution Focused Brief Therapy (SFBT) with some Cognitive Behavioural Therapy (CBT),  Neuro Linguistic Programming (NLP) techniques and hypnosis to reduce stress and anxiety and help achieve positive changes quickly through gaining control of our thoughts, our feelings and our behaviour. It is forward looking and focuses on building resilience and finding solutions rather than trying to uncover or analyse the origin of problems. It works by replacing unhelpful thought patterns, responses and habits with healthy ones at a subconscious level.
The techniques I use do not require you to talk about problems or relive traumatic past experiences. If you have experienced distressing events, we acknowledge that they happened and help you move from where you are to where you want to be. I can show you how to use simple techniques to make rapid changes to enhance your enjoyment of life.

Although I cannot offer guarantees, I do have a high success rate in helping my clients reach their goals. I have successfully helped people with a variety of issues including anxiety, panic attacks, PTSD, low self-confidence, low self-esteem, irrational thoughts, specific fears and phobias, symptoms of depression and irritable bowel syndrome, insomnia and other sleep disorders, coping with major life changes, chronic pain, quitting smoking and overcoming addictions.
What is Rewind Trauma Therapy?
Rewind Trauma Therapy has become internationally recognised as an indispensable treatment for rapidly providing closure to people with post-traumatic stress disorder (PTSD) and C-PTSD.
It offers a way to permanently stop the distressing involuntary recall by integrating the traumatic memory template, bringing it under control. Voluntary recall remains.
It aims to restore normal functioning and eliminate the need for avoidance behaviours so that people can once again interact, work, drive, etc. as easily as they could before.
It usually requires 1 or 2 sessions to bring about closure for single traumas. For multiple event traumas such as combat, abuse, or domestic violence, each traumatic episode can be dealt with separately over separate sessions but, depending on the way the involuntary recall presents, it can some times also be dealt with in a single session.
Rewind Trauma Therapy does not involve hypnosis and differs from other imaginal exposure therapies in that no details have to be disclosed to the therapist, hence why it is often described as providing 'closure without disclosure'. This has a number of advantages.
I have been trained to use Rewind Trauma Therapy by Dr David Muss, Founder of the International Association for Rewind Trauma Therapy and am on their register of qualified practitioners.
If you're unsure whether Rewind Trauma Therapy could help you, or if you would like a free suitability assessment, please get in touch.
Testimonials
"Seeing Hannah was one of the best things I have ever done. I visited Hannah for a phobia of flying and after only a few sessions my phobia was cured. Hannah has helped me hugely with confidence and I could not recommend her enough to anyone. Hannah is thoughtful, supportive, professional and warm. Thank you Hannah :)"
Josie Bateson, London
"It's been over a month and I'm still amazed! After numerous efforts and expensive seminars I was sceptical but openminded. Hannah was very personable and professional, the session was enjoyable. I woke up the next morning and have not smoked or been tempted once – and it's been easy."
Alvin Arumugam, Surrey
"I would thoroughly recommend Hannah to anyone seeking help through hypnotherapy! She totally cured me of a very nasty habit of nail biting and after only one session. Her gentle calm manner made me feel very relaxed. She knows her stuff and I feel confident in recommending her."
JB, Surrey
"I recently sought Hannah's help in resolving a traumatic episode in my life 15 years ago when my father was diagnosed with cancer. I hoped to be able, finally, to talk about my father, look at photos and share memories without the fear that I would be overwhelmed. And that is exactly what happened, following a session of Rewind Trauma Therapy, on Zoom, guided by Hannah. It is a fantastic feeling to have finally dealt with this. The session was as simple as Hannah described it and did not require that the trauma be relived directly. Absolutely wonderful. I cannot thank Hannah enough for guiding me through this."
Lizzie Bateson, Surrey
"I can highly recommend Hannah's hypnotherapy treatment for overcoming a fear of flying, it certainly worked for me. I have just returned from an amazing adventure to South East Asia, and instead of experiencing all the usual anxiety and fear before and during the flight I actually relaxed and enjoyed all the flights. Even my husband and friends noticed how relaxed I was, so thank you very much Hannah for helping to make my holiday of a lifetime even more fun and memorable!"
Lesley Crunden, Surrey
"I visited Hannah to help me with a phobia of snakes which I've suffered with since as long as I remember. Hannah was very reassuring and put me at ease straight away. I'm really impressed with the results. I had a recurring nightmare that has stopped after only one session! The change has been incredible. My partner has a pet snake which I am now comfortable being around! I would happily recommend Hannah to anyone!"
Suzanne Young, Surrey
"Before I tried hypnotherapy with Hannah, I had bad anxiety which led me to have panic attacks in certain situations including interviews and was struggling to have the confidence to get a job. I had around 7-8 sessions with Hannah and I noticed a difference within the first few times I had the hypnotherapy. She is also so friendly and was so proud of me when I found a volunteer job in a charity shop and then a paying job. I strongly recommend Hannah to anyone going through the same thing as it has made me so much more confident. :)"
Mia Lonergan, Surrey
"I 100% recommend hypnotherapy with Hannah! Professional and a great hypnotherapist."
Tansy Button, Surrey
"It is entirely thanks to Hannah that I begin each day now feeling positive and confident, and free of the worry and anxiety which had overwhelmed and dominated my everyday life for so long. Her help has been gentle and kind, she is wonderfully patient, and knowledgeable and the improvement for me was noticeable very quickly. I have also had the majority of my sessions using Zoom which has been fantastic. I have no doubt that hypnotherapy has been one of the best things I have ever done for myself and I would never hesitate to ask Hannah for help in the future."
Elizabeth Bateson, Surrey
"For 30 years, I have been either a 20-a-day smoker, a temporary non-smoker, then a regular smoker, then a pretending casual smoker and now I am a just non-smoker, and this is thanks Hannah. Since March this year, I yet again restarted smoking 10-15 cigarettes / day, and in September I contacted Hannah hoping she might be able to help. We had 1 session and she did helped me: For the last 2 months I have not had, not wanted, not felt the need, not craved a cigarette and absolutely I love it! If anybody is ready and want to stop smoking, Hypnotherapy is the simplest, most efficiency and cheapest way to do it and Hannah was simply excellent! Thank You Hannah."
Ben Challier, Surrey
"Hannah has helped me tremendously over the last couple of years. From sleep issues, an episode of anxiety, to navigating a particularly stressful period of my life, she has always been kind, helpful and professional. She listens intently to my issues during the sessions and I find her personalised hypnosis extremely helpful. If you are unsure about seeking a therapist don't hesitate. She will put you at ease!"
Tim Cooper, Surrey
"Hannah helped me overcome a sudden bout of depression and insomnia. I didn't know much about hypnotherapy before but now I would wholeheartedly recommend her services. She took the time to explain the latest neuroscience findings in how the brain works (or sometimes doesn't work). This new understanding and our weekly sessions was the foundation to a quicker than expected recovery for me :) She is extremely personable and patient. I have always left her sessions on the up."
Virginie Gehin, Surrey
"Hi Hannah, Just to say the speech went really well. I'm a totally delighted chap and to be honest I'm still buzzing 4 days later. Thanks for your help Hannah I definitely know it helped. I really do feel brilliant for facing and conquering this fear, even to the point, I'm almost looking forward to the next public speaking opportunity!"
DS, Surrey
"I would highly recommend Hannah having recently undergone hypnotherapy with for nail biting and driving confidence. She is both personable and professional and really puts you at ease. I left each session with Hannah feeling full of confidence knowing I could conquer my habits/fears and this has continued despite our sessions having finished. If you're considering hypnotherapy then Hannah should be at the top of your list."
Lisa Clancey, Surrey
"Hi guys, just a quick post about my personal experience... I had been unable to fly in any type of aircraft for over 20 years, now approaching my 50th year on this planet, I really wanted to see more of the world, so I approached Hannah with my problem. After two sessions, and me being rather sceptical to say the least, well, I can't explain how, why, or when, but my mindset altered, I became more positive, my fear seemed to subside... weird, but true, it worked for me, and I hope someone reads this and gives it a go, and it works for them too, it's changed my life. Thank you Hannah."

Ali Eagle, Surrey
"Hi there Hannah, I want to give you a little update on my progress, I walked into the dentist the other day (just another check up), and I was COMPLETELY calm and even had a long chat about my teeth with a totally calm and composed mind!! I am so very blown away with the change that you have managed to make with my mindset and feel quite empowered in a strange way!"
Andy Ferry, Surrey
"Hi Hannah. Just to let you know that I walked straight into the dentists last week and had a filling without having an injection or anything like that!!! And a few days later I saw the hygienist also! I'm the talk of the dental practice and don't be surprised if you get some referrals from my dentist as I told them that it's all down to you sorting my head out."
SD, Surrey
"Hannah is simply amazing! Very easy to talk to, making you feel instantly comfortable and at ease. So passionate, knowledgeable and insightful about her subject matter, you can't help but be confident and inspired by the support she can offer. Sessions with Hannah are entirely positive and I leave feeling calm, full of personal strength and ready to take control of my future. Thank you Hannah."
Patricia Smith, Surrey
Hi Hannah, I've been meaning to drop you a note for a while but been very busy travelling with work.  I've been doing much better over the last few months and it's clear now just how much anxiety I carried with me when we were meeting. The big difference now is that when I'm in pressured moments there is still the anticipation of problems arising however it never actually turns into panic. I think that over time the anticipation will also reduce. So much happier!  Thanks again for your help!
ML, Surrey
"From the very first meeting with Hannah I felt in safe hands. Her professionalism meant that I felt secure to talk about my reasons for wanting hypnotherapy and reassured that I would not be judged or made to feel silly. I saw Hannah for a period of six weeks and over that time gained a much clearer insight into how my brain was working as she explained it in a way that was easy to understand and relate to; I found this invaluable and continue to refer to it in my daily life. The hypnotherapy itself was extremely relaxing and Hannah ensured that I felt safe and comfortable throughout. Over the weeks I could feel the effect of the trance work and noticed subtle differences that have had a positive impact on my life. My overall experience of hypnotherapy with Hannah was excellent and I would not hesitate to recommend her service to others. The sessions enabled me to see things in a new light and gave me exactly what I needed."
SB, Surrey

"I am so pleased with the outcome of my hypnotherapy from Hannah. I have bitten my nails for as long as I can remember. I had even bitten my nails all the way down to the cuticle. After many attempts of trying to quit by the usual methods, I could not shake the habit. 2 weeks after my session, the need has completely gone and my nails are growing again. I would 100% recommend Hannah to my friends."

EH, Surrey

"Keep up the good work...I think you are brilliant at it! Thank you for all you did for me. I found it most helpful and still listen to your CD daily."

NC, Surrey
I went to Hannah with some anxiety problems that were preventing me from sleeping and were making life quite difficult at times. At the first consultation she quickly put me at my ease and explained the theory behind hypnotherapy. Over the course of the following sessions I found that my anxiety decreased a lot and I am now almost totally free of it. Her CD was very helpful between sessions. She is a friendly, intelligent, and thoroughly professional person and I am glad that I found her."
NA, Surrey
"I came to see Hannah at a time when a number of life events (including a bereavement, a new job and a house move) had left me feeling stressed, anxious and lacking in confidence. Just finding someone who understood and believed she could help was a great first step and Hannah's calm competence encouraged me to give hypnotherapy a try. I enjoyed all the sessions and the CD although (as Hannah had warned me) it did take three or four visits before I began really to feel a durable effect. After that, rather to my surprise I only needed a couple more sessions before I felt much more calm and relaxed and, perhaps most importantly, in control of my mental state. It is now several months since I last saw Hannah but I am delighted to say that the effect has continued – and if I ever begin to feel stressed I listen to the CD and it brings me back to a calmer and happier place. I would thoroughly recommend hypnotherapy for anyone feeling as I did and I would recommend Hannah as a highly professional and effective practitioner."
AB, Surrey
"Hannah is truly exceptional and provides an amazing service.  A hugely caring and considerate professional that listens and interprets every individual's needs into meaningful realistic solutions for you.  Whatever is in your mind that is holding you back from living your best life, Hannah can help you.  She provides a variety of techniques to suit an individual's needs.  You will need to open your mind and commit to work with the solutions on offer but Hannah will help and support you all the way.  I wasn't aware of everything that was holding me back but we uncovered these together and found solutions.  I would highly recommend Hannah's service to anyone.  It has been life changing for me."  
Catherine Kenchington, Surrey
"Hannah, please don't take offence at this, but you're like a comfortable pair of slippers. When I came to see you, I wasn't sure if you could help, but I felt like you'd placed a metaphoric duvet around my shoulders and that I was in the safest place. Life gets challenging sometimes, you made sense if it for me and helped me 'reset'. Just a few sessions and I'm back on track. Thank you."
JU, Surrey
"I still listen to your CD when I can't sleep - it's magic!"
EE, Surrey
"Thank you so much Hannah. You have a special quality about you, and made my therapy appointments with you a pleasurable experience. The mind is so very complex and I feel you have a special grasp and understanding of your subject. I think you could be on anyone's wavelength. You have certainly helped me and actually continue to do so with the CD you gave me!"
AB, Surrey
"I highly recommend Hannah. Not only is she empathic to your needs, but her solution focused hypnotherapy approach really helped me become more focused in my own career goals and improved my overall confidence. The power of the mind is really amazing, once we figure out what holds us back from changing our limiting beliefs. That 'eureka moment!' really comes home. Thank you Hannah!"
PP, Surrey
"I can't recommend Hannah highly enough. She put me at my ease immediately, yet her professionalism allayed my reservations and together we conquered my issues."
JJ, Surrey
"Thank you so much. It's been a great help."

SB, Surrey
"My late stepfather was a hypnotherapist and over the years I saw how many people he helped, with various issues from stopping smoking, to bed wetting in children, to anxiety issues.  I therefore decided to seek the help of a hypnotherapist for my own problem.
I saw Hannah Schellander for 7 sessions of hypnotherapy. I suffer from fairly severe chronic pain. Hannah had a very good understanding of how chronic pain manifests itself and although I knew a fair amount, she actually knew more about it than myself and she took the time to explain more to me at the outset of the sessions, in great detail, which I appreciated.  With chronic pain, never ending pain signals are being sent to the brain and the situation is exacerbated by one's emotional state.  To improve the situation, one needs to relax more and be more mindful.  I found Hannah to be very professional in her whole approach, whilst at the same time being empathetic, kind and understanding.  During the sessions, I was able to reach a stage of deep relaxation and was pain free.  This calmer more relaxed emotional state would then stay with me after each session and I would have relatively less pain.  Hannah also gave me a recorded CD of a narrative that she uses during her sessions and suggested that it would be a good idea for me to listen to it in a quiet place, every day, which I have done.  I would say that overall I am in a much better place in my life than I was before I had these sessions.
I therefore would strongly recommend that if you have a condition that hypnosis could help with, that you seek her services.  Hypnotherapy can help with a very wide number of issues.  Thank you Hannah."

NC, Surrey

Training, qualifications & experience
I have a Diploma in Solution Focused Hypnotherapy from the Clifton Practice, recognised as a centre of excellence for hypnotherapy and awarded the Gold Standard in 2006.  I have also been awarded the nationally accredited (NCFE) Hypnotherapy In Practice Diploma, a Neuropsychology Diploma accredited by the CMA and a Mindfulness Diploma.  I am also trained in Rewind Trauma Therapy (for treating PTSD).
I am registered with the following professional bodies and am subject to their professional codes of conduct, ethics and performance:
Association for Solution Focused Hypnotherapy (AfSFH)
Complementary and Natural Healthcare Council (CNHC)
International Association for Rewind Trauma Therapy (IARTT)
I am insured to practise and hold an enhanced DBS certificate which allows me to work with vulnerable adults.
I update my skills regularly through continuing professional development and regular supervision.
Although I cannot offer guarantees, I do have a high success rate in helping my clients achieve their desired outcomes.
Professional membership
Member organisations

Complementary and Natural Healthcare Council (CNHC)
The CNHC encompasses many types of alternative therapy, including hypnotherapy.

In order to be admitted to the register a practitioner must have studied to the National Occupational Standards for that profession/discipline, or have reached the equivalent of the National Occupational Standards through other relevant training or at least three years of experience and been assessed by their peers.

A practitioner must also have professional insurance and agree to abide by the CNHC Code of Conduct, Performance and Ethics.

Association for Solution Focused Hypnotherapy (AfSFH)
The Association for Solution Focused Hypnotherapy (AfSFH) was set up to provide information about a modern form of Hypnotherapy and its associated benefits to members of the public. The main aim of the AfSFH is to spread awareness of the benefits of Solution Focused Hypnotherapy. Its secondary aim is to support Hypnotherapists in their businesses by encouraging good practice and self-care.
Accredited register membership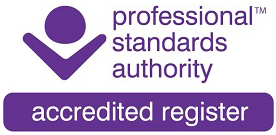 Accredited Register Scheme
The Accredited Register Scheme was set up in 2013 by the Department of Health (DoH) as a way to recognise organisations that hold voluntary registers which meet certain standards. These standards are set by the Professional Standards Authority (PSA).
This therapist has indicated that they belong to an Accredited Register.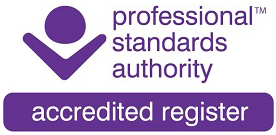 Areas of hypnotherapy I deal with
Information about health conditions (*)

Hypnotherapy can enhance the well-being of individuals diagnosed with serious medical conditions, but should not take the place of medical treatment and advice. If you have been diagnosed with - or suspect you may have - any of these conditions, please speak to your doctor before starting hypnotherapy.
Other areas of hypnotherapy I deal with
Post-Traumatic Stress Disorder (PTSD) and C-PTSD
Unwanted habits (e.g. nail biting, skin picking, tics)
Motivation and procrastination
Self-harming
Coping with change (e.g. bereavement, divorce, chronic illness, retirement)
Body dysmorphia
Intrusive thoughts
Therapies offered
Fees
Additional information
Initial consultation: £65 (50-60 mins)
Subsequent sessions: £65 (50-60 mins)
Smoking cessation: £130 (90-120 mins)
What does a session involve?
The initial consultation gives us a chance to meet and determine the best way forward for you. We'll discuss your situation and what you want to achieve. I will then explain how the mind works and how hypnotherapy can help and will give you an indication of how many sessions you are likely to need. You can then decide if it is the right way forward for you. I will also give you a free CD or download to listen to.
Subsequent sessions involve discussing your progress and identifying desired changes and a way forward, followed by guided relaxation and visualisation techniques to help with the process of effecting beneficial change. You will be asked to listen to the CD or download between sessions.
When I work
M

on

T

ue

W

ed

T

hu

F

ri

S

at

S

un

Morning
Afternoon
Evening
Night