Zoe Silk

Verified Professional

Every professional displayed on Hypnotherapy Directory has been independently verified by our team to ensure they have suitable credentials to practise.
About me
I am very passionate about my work and what I love most is seeing my clients progress. Being able to experience seeing the changes they make and feel within themselves is a wonderful journey to share.
I welcome all ages of and always treat my clients with an individual plan suited for their needs. We are all very different so getting to know my client, building up a rapport then deciding the correct approach is very important
Hypnotherapy

Bournemouth Counselling and Hypnotherapy services make sure that your sessions are structured especially for you as an individual

Frequently asked questions…….

What is Hypnosis and How does it work?
Hypnotherapy, often known as Hypnosis is a wonderful therapy that works with the subconscious mind. From birth our conscious mind is teaching us how to develop practical skills such as learning to walk, riding a bike, learning to drive. Once we have learnt these skill's they become automatic. We no longer have to think about how to do these things because we have already learnt them
When we consider our emotions, we must remember that the subconscious has been taking everything in that has influenced us in this way also. How we feel, how we think and how we react.
What we learn from our upbringing, society, social media and the people we meet can hugely influence how feel about ourselves and our surroundings
What we learn can be very unhelpful and can cause detrimental effects to our physical well-being and mental health. This can often cause feelings of confusion, despair, low self-esteem, unhealthy habits/addictions and unwanted behaviours.

What happens during Hypnosis?
Hypnotherapy is a gentle relaxation where the therapist will gradually guide you by talking. This will help to rewire and re-program your subconscious mind so that any unhealthy and unwanted habits are able to fade away leaving room for positive change. You are always fully in control

How do you feel during Hypnosis?
The sessions will make you feel relaxed, then full of positive energy enabling you to move forward to making the changes needed for a better future, whether that be having more confidence, recovering from an addiction or something else
What area's can Bournemouth Counselling and Hypnotherapy help with ?
Please take a look at the list below as it will show all the areas I can help with
Mostly I would like to express that my aim is not to simply fix one issue that you are suffering from and send you on your way, but to give you the tools and techniques that you can practise with so that you can carry on benefiting from this wonderful therapy, enabling yourself to work through any future challenges that you may encounter ahead.
After all, we constantly hear the saying .... Life is a journey !
If you would like to know more and learn to share this wonderful inner peace for life, whatever brings you to my page, then please give me a call or send me a message below
Many thanks
I see my work as a gentle stepping stone towards a healthy, positive future. All that is needed is for you to make that first step. A step forward, a step to change.
Training, qualifications & experience
Diploma in Hypnotherapy and Counselling Skills
Diploma in Psychotherapeutic Counselling
Certificate in Counselling Skills CSK
Certificate Second Degree Reiki
Certificate First Degree Reiki
Member organisations

National Hypnotherapy Society (Hypnotherapy Society)
The National Hypnotherapy Society is a Learned Society whose primary purpose is the advancement of the knowledge of hypnotherapy and the fostering of professional hypnotherapy expertise through training, accreditation and continued professional development of their members. The Society seeks to contribute to public wellbeing both through the use of hypnotherapy and by ensuring that hypnotherapists are safe, competent and ethical in practice.
Accredited register membership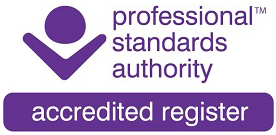 Accredited Register Scheme
The Accredited Register Scheme was set up in 2013 by the Department of Health (DoH) as a way to recognise organisations that hold voluntary registers which meet certain standards. These standards are set by the Professional Standards Authority (PSA).
This therapist has indicated that they belong to an Accredited Register.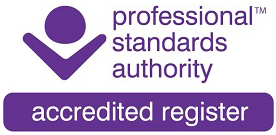 Areas of hypnotherapy I deal with
Information about health conditions (*)

Hypnotherapy can enhance the well-being of individuals diagnosed with serious medical conditions, but should not take the place of medical treatment and advice. If you have been diagnosed with - or suspect you may have - any of these conditions, please speak to your doctor before starting hypnotherapy.
Other areas of hypnotherapy I deal with
Specialist Services that Bournemouth Counselling and Hypnotherapy offer
Relationships
We build relationships of all types throughout our lives. Sometimes things can become complicated and we can easily misunderstand one another, take each other for granted and soon our relationships can feel strained and often at breaking point.
The dynamics of a family can change very suddenly in very little time and before we know it tension can easily build and resentment can set in very quickly. If we are not happy in our relationships then often it can affect all areas of our lives. Sadly, it may make us feel that our whole world is falling apart. Without a support network around us we can easily feel alone with our thoughts and become isolated.                   
Whether your relationship issue is with your partner, child, other family member, friend or someone you work with perhaps then please do not think it cannot be sorted out. Counselling can help sort relationships issues in many ways. It is often the case that simple boundaries need to be put in place or communication skills explored. Together we can discuss a plan that helps you to build that relationship back up again, find that something that you may have lost and even better, discover new ways of communicating for the future so that your relationship remains strong and fulfilled

Sometimes, relationships do come to an end. After exploring your situation and options available plus dealing with acceptance it may well be time to part ways. For whatever reason this may be, talking confidentially with a counsellor will not only ease your heartache but also enable you to find the strength to move forward.
Anxiety

If you are suffering with anxiety at this time please don't feel alone. It is very common for people to experience anxiety at some point in their lives. Asking for help is the first step.

Our mental health is just as important as our physical health. It is so common for us to neglect ourselves by getting lost in our busy lifestyles. We carry on juggling life at a fast pace and forget how important it is to look after ourselves. This can sometimes cause terrible anxiety that can be triggered by stress of all kinds, past trauma and other experiences.

It can be very helpful exploring why you suffer with anxiety and finding the root cause. Anxiety can display itself in many different ways. It can be a very scary experience and for some sufferers can stop them from leaving their homes and carrying on with their daily lives. This can easily leave a person feeling very low and unable to focus on basic tasks like showering and eating. This can be extremely concerning for the sufferer and their loved ones.

There are many types of anxiety. The most common forms are Social Anxiety and Health Anxiety. I have extensive knowledge and experience in this area so can offer to teach you various techniques that will help to ease your symptoms and start living again.

Depression

Many different factors can cause depression. Sometimes there may be no reason for feeling low which may cause you to feel confused, hopeless, lack motivation and simply not be able to carry on with anything. Being able to talk with a counsellor can be extremely helpful in your recovery. Sometimes all that is needed is a person to be there and listen. A related or a friend may not be the appropriate person. It is understandable that you may not want to discuss certain issues with the closest people around you.

If we go through life without expressing our emotions, fears and discussing our pasts then our thoughts and feelings can become supressed. This can often make us ill mentally and physically. It is crucial to open up so that those feelings can be released. Literally, a weight from your shoulders can be lifted

Do you sometimes feel stuck in life? Learning to release some of your unwanted thoughts and feelings can be of great help. It is so common to feel held back in life by past memories and how you were. If you live in the past then it is very difficult to move forward into the future if you hold on to past thoughts, feelings and reactions. Working through past issues and discovering that there are new opportunities ahead can really open doors for you. Learning to take small steps and being kind to yourself is key. Having support while you are doing this can be extremely rewarding.

It's very important for you to realise that your journey does not have to be alone. Having a counsellor to listen, without judgement can really compliment your development and progression to moving forward to a happier future.
Bereavement
Have you recently lost a loved one?  Are you supporting someone who has?

We grieve in many ways and the emotions we feel can sometimes be confusing, frightening and a shock to us. We may feel that we are not reacting to our loss as we feel we should. Sometimes it can be extremely hurtful when others close to us become distant if they don't know what to say. It can be very helpful talking things through with a person who is not a member of your family or a friend. It can also help to learn about the stages we go through when grieving.

Please don't suffer in silence. It's often so hard to open up about losing a special person. It can equally be difficult accepting the loss of a person that we were not so close with. Most people find it very valuable to share their thoughts and concerns.

Grief can hit us when we least expect it and this may cause us to feel extremely vulnerable and fragile. Learning to be kind to yourself and knowing the stages that you may experience can be of great benefit

You may have to deal with the practicalities of losing somebody. For example. Finances, legal issues and having to sort personal belongings. All of these factors can be very hard to manage, particularly if you are alone. Life can become totally overwhelming.

Please get in touch if you would like some support. Most people find that bereavement counselling is a great help. Have a listening ear with compassion and understanding can be a wonderful comfort at this time
Adolescents/Parents Support
Are you a young person finding life difficult? Do you feel overwhelmed and unable to cope with life at times? Are you struggling with issues such as low confidence, friendship issues, anxiety or your general health and well-being? If so, you are not alone. It is completely normal to sometimes feel this way. The good thing is that there are many ways of helping you deal with these things.

Growing up is sometimes not easy, especially these days with the pressures of social media added into the mix. Sometimes our expectations can be unrealistically high and this can cause a lot of distress

Perhaps you are a parent desperately worried that there might be something wrong? I have many years of experience and expertise particularly with this age group. As a trained Clinical Hypnotherapist also, I find that sometimes a combination of Counselling and Hypnotherapy works very well in this case. As the Hypnotherapy works with the subconscious mind, it helps to make the client feel less pressured about the problem and more focused on the solution in a positive, fun and relaxing way. This method is very effective for low self esteem and confidence issues. I do encourage parents to sit in during sessions, especially under the age of 16 years
Addictions
Do you suffer with an addiction and cannot see a way out?

Would you like to sit with somebody on a one to one basis instead of in a group?
Would you like to work with a plan that is suited to your needs as an individual?

You may have arrived on this page because you suffer with an addiction and this is the first time you have searched for help. If so, then that's amazing! It's a really brave step. You may be here because you have struggled for many years, tried lots of different approaches and want to seek something a little different

Whatever the reason you are here I want to make you feel very welcome and reassure you that this is a very safe confidential place to be. After overcoming an addiction myself I have a real passion for helping people in this area. Whether your addiction is alcohol, drugs, food or something else I can help.

Sometimes, the more traditional methods to help sufferers can seem outdated and old fashioned. Also, it can be quite difficult to get the help you need if all of these organisations can only offer group sessions!

If you are looking for help where you will be listened to in confidence, without judgement with compassion then you've arrived at the right place. Please be reassured that you will be treated with kindness. During the sessions anything is open to talk about and then we can discuss a plan that will help you move forward to where you want to be.

People can develop an addiction to many things at different times in their life. Finding the root cause for these unhealthy habits and the reasons for needing them needs to be explored. This is really important to discover as if not then one addiction can often be replaced for another.

For Example
A person struggling with an alcohol addiction could easily start smoking again or over eating so as to seek comfort in something else because the alcohol has been taken away ……..

In therapy, we need to discover for what reasons a person needs that comfort? Discuss the feelings associated around that, then search for a healthy alternative
There are many reasons a person develops an addiction. It may be genetic, a learnt behaviour, early peer pressure, a form of escapism or a combination of them all. However we discover your individual reason for forming this habit, we can work closely together to gradually aim for an outcome you are comfortable with.
If this sounds like you and you'd like more of a personal plan set for you, full confidentiality without judgement then please get in touch.
Are you supporting a person with an addiction?
Are you trying to help a loved one with an addiction?
Are you confused with how they are behaving and reacting?

It can be the most difficult thing in the world to watch someone you care about abuse their bodies with a substance that you know is harming them or repeating an unhealthy habit leading them to self-destruction. For a person with no understanding or history of addiction, it can be extremely difficult to know what to say, what not to say etc, especially if that person is under the influence

I have extensive knowledge in this field of work and after recovering from an addiction myself I am really passionate about offering help in this way to sufferers and their friends and families

If you feel you would like some advice in knowing what steps you can take to help your loved one then please get in touch. It can be so helpful to talk things through with someone who understands from both sides.


Therapies offered
Fees
Additional information
I offer a free 15 min telephone consultation My hourly charge is £50.00
When I work
Opening hours
9am until 7pm
Monday to Saturday