Trevor Brown
Specialist in Anxiety, Confidence and Self Esteem
About me
If you struggle with anxiety, if you feel like stress, panic and worry are taking over your life; if your self confidence or self esteem is low, or you feel as if your'e not good enough at what you do and you could be caught out as a fraud at any point, or you have a particular fear that is having a detrimental impact on the way you live, then I can help. The proven techniques I use in my sessions will help to relieve and manage the feeling and emotions caused by negative thoughts. Allowing you to overcome your mindset issues so you can live your life in a much more powerful and fulfilling manner.
Contact me now to claim your free full 60 minute online consultation.
I am a fully qualified and certified Advanced Clinical Hypnotherapist, Mindset Coach and NLP Practitioner. I am also a Certified Hypnotist of the Mike Mandel Hypnosis Academy based out of Toronto, Canada. Mike Mandel is widely regarded as the world's greatest Hypnotist and trainer who has 18 nominations and 6 awards for excellence.
I offer personal, private, confidential, ethical and secure sessions over the internet via a private video link so you can get professional and effective support from the comfort of your own environment. I am a full member of the National Council of Hypnotherapy and practice according to the National Council of Hypnotherapy Standards code of ethics.
I am an expert in Anxiety and Stress Management, Self Confidence, Self Esteem boosting and have helped countless clients overcome fears and phobias like flying, driving and taking tests.
Our mindsets have a huge impact upon the way we respond to the world around us so we can all improve our lives by changing that mindset using Mind Coaching and Hypnotherapy. Consider anxiety for example. Anxiety is a natural response to the environment we live in and has manifested itself in our 'Fight, Flight or Freeze' instinct for thousands of years. If you think about it if your ancestors did not have that instinct you would not be here as they would have not survived and been able to pass their genes down to you. However, anxiety can also have a debilitating effect on us as it can prevent us from sleeping, give us headaches and dizziness, makes us ache all over, have a negative impact our judgement and general outlook on life. It can make us physically ill, lose interest in our relationship with our partners, make us tired. It can upset our stomach or cause us pain, we can lose interest in eating and we can become reclusive or aggressive in equal measures, have panic attacks as well as a host of other 'brain-frying' things that we would rather do without.
You can make the positive changes that you have always wanted to with ReframeLife Hypnotherapy & Mindset Coaching. During you hypnosis session you can unlock the vast power of your unconscious mind to allow you to become a better, healthier, happier, more successful, more balanced You.
You can also make positive changes to your life without going into a trance state by working with me in a MINDSCAPING session. MINDSCAPING is NOT hypnosis, it is a simple yet very powerful method to rapidly induce massive internal shifts without the need to go into a deep trance state. It's a relaxing, fascination, enlightening, and consciously enjoyable experience that can bring major benefits.
Whatever method you choose you can make significant positive changes to your life if you take that first step and make that commitment to yourself by contacting me now, just as my clients below did:
CLIENT TESTIMONIALS
Lara D - 5 Star review verified via Bidvine

Life Changing - My sessions with Trevor have been life changing. He put me at ease instantly. The work we have done together has enabled me to be excited about life again.
Emma M - 5 Star review verified via Google
Recommended - I started seeing Trevor for help with overcoming anxiety and increasing my confidence. Since our sessions I have noticed a major improvement and I left each session feeling incredibly calm and uplifted. I am extremely grateful for all his help and I would not hesitate in recommending him!
Michael P - 5 Star review verified via Google
Excellent - Trevor is fantastic and surpassed all my expectations. I couldn't recommend him more to anyone who is looking for clarity, peace of mind, and a lasting positive experience in their lives. Thank you, Trevor!
Rachel P - 5 Star Review verified via Google
Recommended - I got in touch with Trevor and don't regret the sessions at all. Trevor makes you feel relaxed and supported during the sessions. I would definitely recommend and will return.
Michael F - 5 Star Review verified via Yell
Recommended - I started seeing Trevor in March 2020. I was in a very bad place my head was full of negative thoughts which kept going round and round. Trevor is extremely professional, understanding and not judgmental. Some of our sessions were conducted 'over the Internet' via a secure video link due to the Coronavirus and lockdown. I noticed a major improvement and can't thank him enough, I would not hesitate in recommending Trevor."
Laura N - 5 Star Review verified via Google

Brilliant Man - I originally was going to see him for one thing but once I knew it had worked, I have kept going back for other things.
Trevor is extremely professional and always knew the right scripts for me instinctively. He has always made me feel very comfortable. Brilliant man!
N Arthur - 5 Star review verified by Trustedpractitioner

Positive Impact - Reducing all the negative thoughts whilst massively increasing positivity. Having my sessions with Trevor I have been able to refocus on the important aspects of my day to day life. My mindset is back to its positive ways and is helping me to really make the most of life. I've even found my sessions have helped me in other aspects of my life especially in terms of high-pressure scenarios. I would let all my friends know the positive impacts my sessions have had and how it can be used to improve the way things in life are perceived.
C Bell - 5 Star review verified by Trustedpractitioner
Recommended - I can thoroughly recommend Trevor, though our sessions I have become more confident. When in meetings at work, I can put my point across calmly and clearly without nerves. We also did some work on sugar and weight issues, I find myself a lot more disciplined, and without any feelings of depriving myself, I just no longer feel I want it. Trevor always listened to what I wanted from my sessions, and I will always be thankful for his support.
Lucy W - 5 Star review verified by Trustedpractitioner
Impeccably professional - yet highly personable. Trevor is always impeccably professional yet highly personable! He has a wealth of knowledge but also looks to new techniques and research in an ever-evolving field. Trevor is able to diffuse my brain and bring me back to ground on every occasion, regardless of what "challenge" I bring to him!!! I would recommend Trevor to anyone and everyone!
Liza H - 5 Star review verified by Trustedpractitioner
Excellent hypnosis - best ever! Very professional but friendly and down-to-earth approach. Best hypnosis I have ever experienced
Richard P - 5 Star review verified by Trustedpractitioner
Great! - Since seeing Trevor has given up smoking and cut down drinking and generally have a better standard of life. Thanks Trevor!
Sean R - 5 Star review verified by Trustedpractitioner
Eye opening - I have always been very skeptical about hypnosis but having experienced it today I felt at ease and more relaxed than I have been in a long time
Andrew S - 5 Star review verified by Trustedpractitioner
Knows his stuff -  Very friendly put me instantly at ease. He clearly knows his subject and knows how to get to grips with the issues in a gentle but effective way. Looking forward to working with Trevor on other topics in the future.
Tom P - 5 Star Review
Skeptical - I was thinking about doing hypnotherapy and I was a bit skeptical at first but immediately felt different at my first session. I am in the stage of getting my HGV licence and I passed both my theories on the first time. Then when I went driving for the first time my nerves just vanished and I started to drive and had a massive grin on my face. Thank You!
Matthew R - 5 Star Review
Thank You - I want to thank you for the difference you have made to my confidence which enabled me to keep myself together in a way that I would not have thought possible months ago.
Emily R - 5 Star Review
Big Deal - I managed to wash, dry and straighten my hair and put my makeup on in 30 min. I am now walking around town with my hair down and a jumper and scarf on and I am OK!! Nobody but you understands what a big deal this is for me! :)
Milli D - 5 Star Review
Thank You - I am very grateful to Trevor for helping me overcome my fear of driving.  I wanted to learn to drive for years but  I've always been scared, anxious and didn't have any confidence.  I have combined driving lessons with hypnotherapy and I become more relaxed during the lessons which helped me a lot with the whole learning process.   I have passed my test first time with 5 minors, a result that I just could not see at the beginning of my driving lessons.  Hypnotherapy is a wonderful way to reset your mind and see things in a much positive way.  A big  THANK YOU to Trevor and wish him a lot of success  and good luck !!
Paul K - 5 Star Review
Brilliant Result - I thought I'd update you on how Dom did at the weekend. Despite the freezing temperatures, howling gale and rain he had a great time, full of confidence and used his anchor to great effect on the grid (he'd been practicing it all week), I asked him what he was visualising while using it and he said: "simply crossing the finish line ahead of his rivals". It worked a treat and he drove a very tactical race, taking no risks and doing only what he needed to stay ahead. He managed to do just that finishing 1 place ahead of his main rival and thus securing his 3rd place in the championship and winning his first trophy as a result. A brilliant result and he was over the moon with it. Thanks so much for all your help to date.
Sean O - 5 Star Review

Kick Start - Seeking hypnotherapy was something new to me and I was apprehensive and slightly skeptical about the whole process. I felt worn down and stuck in a rut. I needed a 'kick start' to get my life going again which I was frustratingly unable to do for myself. From the start, Trevor's relaxed and friendly approach made me feel that I was in safe, caring hands. His tailored hypnotherapy sessions enabled me to understand my problems and what may have caused them. Trevor has shared highly effective strategies, allowing me to move forward with a much more positive attitude. I am deeply grateful to Trevor; superlatives do not do him justice, and I am now a firm believer in the benefits of hypnotherapy. I wish I'd booked that first session with Trevor years ago!
Kevin W - 5 Star Review
Very Skeptical - I was having commitment and anger issues which led me to have extremely low self-esteem and lack confidence. The worst thing was I didn't know how to deal with them. This, unfortunately, was putting my health and long term relationship at risk, that's when I decided to see Trevor. This was a very hard decision for me to make and accept but something I needed to do for my own sanity as well as securing my future with my Fiancée. I must say I was VERY skeptical that it would do anything for me! At my very first session, Trevor made me feel completely at ease and not alone in how I was feeling. I left my first session feeling very different but I couldn't explain why. Since then I have had regular follow up sessions which I look forward to attending, as it has definitely made a huge difference to how I feel about myself and I now have the confidence to plan and look forward to our future. I would highly recommend Trevor without a doubt. No matter how small or impossible you may feel the problem is, I can promise you he will be able to help. Please don't feel alone or scared if I can take that step then so can you.
------------------------------------------------------------------------------------------------------------------------------------------


Training, qualifications & experience
I studied Advanced Clinical Hypnotherapy on a full time basis for two years with the National Council for Hypnotherapy (NCH) (the largest register of independent Hypnotherapists in the UK) and gained the Hypnotherapy Practitioners Diploma (HPD), widely considered to be the 'Gold Standard' in Hypnotherapy in 2008.
I have also studied with, and am a Certified Hypnotist with the Mike Mandel Hypnosis Academy.  Widely regarded as the world's greatest hypnotist, Mike Mandel has 18 nominations and 6 awards for excellence.
I am a Member of the The Complementary and Natural Healthcare Council (CNHC) which was set up by the Department of Health in 2010. The Department of Health recommends that you choose a Hypnotherapist that is registered with the CNHC.
I offer personal, private, confidential and ethical 'one-to-one' sessions at my ReframeLife Hypnotherapy & Mind Coaching practice, via secure video and onsite within Corporate environments. I am a full member of the National Council of Hypnotherapy and practice according to the National Council of Hypnotherapy Standards code of ethics. I provide a completely private, confidential and ethical service.
I practice according to the NCH and CNHC strict Code of Conduct / Ethics.
I also have a BA(Open) degree, a Diploma in European Humanities and am a Member of the Chartered Institute of Purchasing & Supply.
I discovered the power of Hypnotherapy some years ago after suffering significant personal tragedy, losing one of my twin daughters, who were born at 26 weeks, having her sister in intensive care for 3 months, almost losing my wife at the same time followed by my son, born a year later, being diagnosed with a severe immune deficiency and having to have chemotherapy and a bone marrow transplant in Great Ormond Street Hospital when he was 22 months. Note: My son was also diagnosed with a renal cell carcinoma when he was 7 and had to have a kidney removed in an emergency operation. Additionally, during this time I was engaged as a Business Consultant and subsequently worked away from home in numerous high pressure Corporate environments.
The benefits of Hypnotherapy amazed me so much that I decided to train and qualify as a Clinical Hypnotherapist with the NCH to allow me to help others in similar circumstances.
Hypnotherapy can help with procrastination, assertiveness, public speaking, executive skills, listening skills, performance, relationship skills. It is effective when applied to smoking cessation, addictions, anxiety, stress management, insomnia, weight loss, eating disorders, releasing phobias, study and sport performance enhancement, inner-self confidence, and performance anxiety. Hypnotherapy is also a very powerful tool for increasing motivation and achieving (business/sports) goals etc.
My practice, offers a private, relaxed environment in the picturesque Wiltshire countryside where I can focus on improving the lives of my many clients.
During the pandemic, I work with my clients (personal and corporate) via secure video (both live and recorded).
By working with you individually, I can rapidly get to the underlying cause of your particular problem, and help you deal with that quickly and effortlessly, using the power of your unconscious mind.
For me Hypnotherapy is not just an effective tool to address some of life's issues and problems, it is also a powerful means for you to enhance your appreciation and understanding of yourself and thus enhance your performance and enjoyment across all aspects of your life.
I am very proud to state that I get great results my client's testimonials show. If you want to change your life for the better call me now for an informal, confidential, no obligation chat to discuss how I can help you. Alternatively you can complete the Contact Form and I will get back to you at a time that suits you.
Confidential and ethical help is just a phone call away. If you think you could benefit from working with me in a One 2 One partnership, call me now on 01249730964 (+44 1249730964 for International callers) or 07973779341 for further details, you can also email trevor.brown@reframelife.com or Skype trevorjbrown1
Trevor J Brown
ReframeLife Clinical Hypnotherapist & Mind Coach, BA(Open), Dip Eur Hum(Open), DipCAH, MNCH(Lic)
Please Note: Hypnotherapy is 100% safe for the vast majority of people. However, those suffering from low blood pressure, epilepsy or clinical depression should seek medical advice before undertaking Hypnotherapy.
Member organisations
Registered / Accredited
Being registered/accredited with a professional body means an individual must have achieved a substantial level of training and experience approved by their member organisation.

Complementary and Natural Healthcare Council
The CNHC encompasses many types of alternative therapy, including hypnotherapy.

In order to be admitted to the register a practitioner must have studied to the National Occupational Standards for that profession/discipline, or have reached the equivalent of the National Occupational Standards through other relevant training or at least three years of experience and been assessed by their peers.

A practitioner must also have professional insurance and agree to abide by the CNHC Code of Conduct, Performance and Ethics.

National Council for Hypnotherapy
The National Council for Hypnotherapy holds one of the largest registers of independent Hypnotherapists in the United Kingdom and strives to maintain the highest standards among its members.

There is an agreed Code of Conduct, an established Complaints & Disciplinary Procedure and all members are obliged to maintain comprehensive Public Liability & Professional Indemnity Insurance, maintain regular CPD (continuing professional development) hours, and attend Supervision when needed.
Accredited register membership

Accredited Register Scheme
The Accredited Register Scheme was set up in 2013 by the Department of Health (DoH) as a way to recognise organisations that hold voluntary registers which meet certain standards. These standards are set by the Professional Standards Authority (PSA).
This therapist has indicated that they belong to an Accredited Register.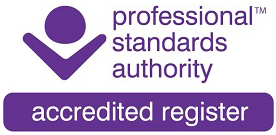 Areas of hypnotherapy I deal with
Information about health conditions (*)

Hypnotherapy can enhance the well-being of individuals diagnosed with serious medical conditions, but should not take the place of medical treatment and advice. If you have been diagnosed with - or suspect you may have - any of these conditions, please speak to your doctor before starting hypnotherapy.
Other areas of hypnotherapy I deal with
Procrastination
Emotional Baggage
De-Clutter Your Mind
Assertiveness
Driving Test Anxiety
Business Performance
Imposter Syndrome
Fees
£65.00 per session
Free initial telephone or online session
Additional information
CURRENT PRICES
FREE initial consultation session
Individual Sessions: £65.00 per session.

Discounts applied to pre-paid block bookings programs of 4, 6 and 8 sessions.
Block Booking 4 x 1 = £240
Block Booking 6 x 1 = £340
Block Booking 8 x 1 = £430 
Availability
M

onday

T

uesday

W

ednesday

T

hursday

F

riday

S

aturday

S

unday

Morning
Afternoon
Evening
Night
Further information
I have a business background and for over 30 years I have worked in many parts of the world as a senior executive in both private and public sectors for organisations both large and small. During that time I saw many good and talented people (myself included) really struggle in their respective working environments as life has a habit of making things a little complicated every now and then. I found that a lot of organisations were, and still are simply not able to provide the support people need to get the best out of them which means both the individual and the organisation suffers.
That said I believe there are a lot of CEOs and heads of organisations do use mind coaching for themselves to enhance their business and personal lives on a regular basis. It's a secret a lot of very successful, very wealthy people keep to themselves as they don't want to be seen to be using it.
In recent years the viewpoint has changed for the better regarding mental health wellness and indeed regarding utilising the power of the mind. It is my opinion that these tools and techniques should be made available to all and as a fully qualified NLP/Life Coaching/Clinical Hypnotherapist I wear a different hat when I engage the Corporate world as I now provide a service that helps the individual and groups of individuals to get the best out of themselves which in turn has a beneficial impact upon the organisation they work for.
If I am doing a two hour session with a CEO for example, I can spend the first hour of the sessions simply getting to know him/her and understand the goals he/she wishes to achieve. I also work with them to identify what the issues are, what the roadblocks are, what outcomes they want and what strengths they need to achieve those outcomes. During the second hour I use an appropriate mind coaching method which, for example, could be to get them to release any anxiety in a structured way and focus on the success they've had in the past or imagine what real success might feel like and anchor that feeling and then bring that feeling, that mindset, into the present and the future.
I work with individual employees and groups of employees within sessions. If I am working with a single employee or even a group of employees who have a real fear of public speaking, for example. I use powerful deep relaxation techniques and take them through the process of doing the presentation in a fully calm and controlled manner to help them overcome that fear.
The most common request for support I get is for anxiety management as anxiety is one of the most serious conditions employers need to manage and employers are required to demonstrate they have supported employees suffering with anxiety.
I also cover other business focussed issues and requirements such as Business Confidence, Executive Skills, Assertiveness, Decision Making, Empowerment, Business Meetings, Negotiating, Public Speaking and Time Management and personal issues and requirements such as Social Confidence, Self Esteem, Motivation, Mind Clutter, Anxiety Management and Self Hypnosis
You can call me now for an informal, confidential, no obligation chat to discuss how I can help you. Alternatively you can complete the ReframeLife contact form on the site and I will get back to you at a time that suits you.