Abundance circle
Hypnotherapists and trainees
£8 in advance or £10 on the day
47a Crane Road, Twickenham, Middlesex, TW2 6RX
Is there something in your life you'd like to achieve or do but feel stuck, unclear, or feel as if something is holding you back? Would you just like to feel more inspired and motivated? If so, the abundance circle may be the answer you are looking for. Working with like-minded people is a terrific and extremely effective way to manifest your goals and dreams into reality. Having the energy of a collective mindset is phenomenal for helping you feel motivated, inspired, on track and supported. If you want to:
begin creating the life you want
de-programme yourself from patterns that hold you back
have enormous help on creating your vision using the spiritual laws properly so they are second nature
discover how to align your self, energy, values and core beliefs with your desires in such a way that you literally magnetise the people and the resources to you so that you can turn your goals into reality
tap into a higher frequency and sustain the vibration.
Then this programme is definitely for you. You may have read the books and done the seminars but truly understanding and living the spiritual laws so you sustain the energy is another thing, especially trying to do it on one's own. However in this wonderful collective energy you will feel inspired and joyful more consistently.
We meet fortnightly on Tuesdays (check this link for the next date)
7.30pm-9pm
Twickenham
Cost: £8.00 in advance or £10 on the day

Places are limited so book asap

Everyone is welcome. The only thing you need is the desire to have the abundance of your dreams and a willingness to hold other people's energy. Please contact Denise to book or for any further information. Please note after the first session dates and times may change according to the group dynamic.

"I find that having done several sessions with you and the group that I'm far more aware and appreciative of abundance in my life! My new business is attracting a lot of interest and my confidence is growing as I'm realising more and more that my mind is creating all these things for me! I'm living the same life as before, but with a different mindset - and my outcomes are changing! I started my personal journey over 2 years ago, but since working with you I feel things have been given a nice little boost. Your compassion and understanding of people only starting out on, or early in, their journey to self-awareness, is very important and powerful. Thanks for the abundance club - it's a great idea!" Tracey
For more information: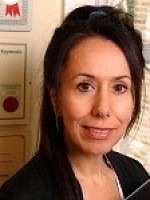 Denise is personal development coach and therapist based in Twickenham and Ealing. Using a holistic and multimodal approach (including NLP, Hypnosis, mindfulness and EMDR). Denise has helped thousands of individuals and professionals being happier, by creating the inner conditions to develop their authentic self and achieve their true potential.