Choosing the right hypnotherapist for you
Deciding on a complementary or alternative therapy that might be right for you can be hard enough. But once you have decided to undertake hypnotherapy, how do you choose which practitioner to go with?
There are so many factors that can affect our choice, and in an unknown territory, it can all feel a little overwhelming. To help make the process easier, here are our tips to help you choose the best hypnotherapist for you.
Ask around for recommendations
While we shouldn't solely rely on someone else's experience (everyone will have their own preferences when it comes to qualities of a professional), it can be a good method to help you find a hypnotherapist.
Particularly if you know someone who has already undergone hypnotherapy, ask them about their experience and what they thought about their practitioner.
Decide on the important factors
Much like when looking for a new job or a new home, you need to decide on the factors that are essential, and which ones you can afford to compromise on.
Do you have a budget? Are you looking for someone that is close to home, or perhaps someone based near to where you work? Or, do you have a specific time constraint or a goal in mind?
For instance, do you want to overcome your fear of flying before your summer holiday? Or do you want to face your anxieties about public speaking before a presentation at the end of the year? It's worth being open and upfront about these factors; your hypnotherapist can help to set your expectations and will be able to plan for these time elements.
Look for professionals that specialise
It's likely that you have something specific that you are looking for help with – so, go with someone that specialises in your area. If they have been working in that field for some time, they will have built up a solid knowledge base of what is most likely to help you.
Before you commit yourself, make sure you connect with them

When searching for a hypnotherapist, one element that is just as important as the above factors (if not more so), is trusting your gut instinct. Trust your initial reaction and choose who you feel drawn to.

Your connection with this person is vital – it is important that you feel that your hypnotherapist understands you personally and cares about your well-being. Good rapport is also key, so try to establish this on the phone before your first appointment, if you can.
Don't be disheartened if it's not right first time
If the first professional you reach out to isn't quite right for you, don't give up. There are multiple types of hypnotherapy, and each practitioner will often have different techniques and approaches, so if you don't have success with one at first, it is always worth trying someone else who uses a different approach.
We know it's daunting when you're not sure where to start. But, we're here to help.
Share this article with a friend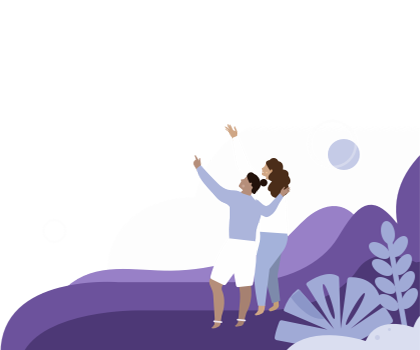 Find the right hypnotherapist for you